OUR MISSION

Oceana dedicates itself to the design and construction of custom made aquarium exhibits, from small domestic tanks to large oceanariums. Our mission is to create amazing exhibits with maximum realism, while always striving to entertain and educate.
A BRIEF COMPANY HISTORY

Oceana was founded in 1998 and is an Italian managed company based in South Africa. The company is operated by the Debenedetti family and the director and driving force of the company is Dr. Giulio Debenedetti, a medical doctor with a life-long passion for aquariology.
In 1993 while living in the Philippines, Dr. Debenedetti met the world renowned American wildlife artist Mr. David Baskin. This chance encounter developed into a close personal friendship and also began a keen professional interest in Mr. Baskin's artistic creations. Working together with Mr. Baskin he spent the following years learning all aspects of artificial exhibit construction, and also worked with him on several high profile projects including Ocean Park (Hong Kong) and the Maritime Museum (Macau).
Dr. Debenedetti then moved to South Africa where he founded Oceana Manufacturing in 1998. After completing a degree in Zoology, his son Davide Debenedetti joined the company full time in 2004. The company's initial focus was on constructing small and medium sized exhibits for the commercial and residential aquarium markets. In this period the company completed hundreds of projects for the United States, Middle and Far East, Australia, Europe, and South Africa (95% of the company's work is outside South Africa).
In 2005 and 2007, Oceana was sub-contracted to build and install exhibits for two large aquarium projects by ICM/Reynolds (the world leader in acrylic production and aquarium project management).
The first was
Mega Mall
Lithuania, in which Oceana built and installed an 8 meter tall coral reef exhibit for the largest tropical aquarium in the Baltics. The second was
Mardan Palace
Turkey, a U$ 1 billion hotel in which Oceana built and installed coral reef and sunken shipwreck exhibits within 4 large aquariums each measuring over 21 meters in length.

These large and high profile projects helped put Oceana firmly on the map as an internationally recognized company for the design/construction/installation of large scale aquarium exhibits.

In the following years Oceana has built exhibits for many other prestigious projects, including: Royal Children's Hospital (Melbourne), Antalya Aquarium (Turkey), Aquamundo (Dominican Rep.)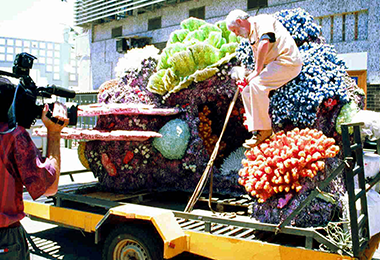 OUR PREMISES AND WORKFORCE

Oceana operates from a large industrial building with a combined covered area of over 4000 m². This abundant space enables us to prefabricate exhibits of almost any imaginable size. The premises is situated near several game reserves in a tranquil town 120 km North of Pretoria, South Africa's Capital.
Oceana has a permanent workforce of 18 people, which includes several highly skilled craftsmen and artists. If necessary, this workforce can be temporarily enlarged to as much as 200 people for extremely large projects. This flexibility (in total respect of South African labour law) allows us to achieve extremely fast construction times during the prefabrication process. Operating from a low cost labour country also allows us to be very competitive when pricing our highly labour intensive product.
When it comes to installing our exhibits at their final destination, Oceana has an extremely experienced installation team with a proven track record, which can work quickly and effectively in any corner of the world.
Click here to see a full explanation of our company's strengths in "Our Product"
We believe that the quality, durability, and attention to detail of our exhibits are the highest in the industry. This, combined with competitive prices and decades of experience makes Oceana the ideal choice for your next project.